Halloween made the pumpkin a popular autumn character, but jack o'lanterns are not the only way of using the pumpkin. Actually, the pumpkin is an ancient food product rich in vitamins, easy to cook and store (some pumpkin cultivars can be stored for up to 12 months!), and, of course, delicious and beautiful.
The pumpkin originates from Mexico where it has been grown and consumed since 6000-5000 BC. It was Christopher Columbus who introduced the pumpkin to Europe. The pumpkin is nowadays popular worldwide. Let's come to grips with pumpkin cultivars in order to be able to choose one that would perfectly match your dish and taste and will cook original and testy dishes.
Summer squash (Cucurbita pepo)
So, familiar from the very childhood – Cucurbita pepo. It's bright orange in color with thick and slightly ribbed skin; round in shape and large in size (can attain to a giant size and weight up to 20 kg). That sort of pumpkin the Fairy Godmother must have turned into a golden carriage for Cinderella : ) They are also used for making jack o'lanterns for Halloween.
By the way, this cultivar also includes squashes, zucchinis and pattypan squash. As to its taste, the summer pumpkin has an intense 'pumpkin' taste and bright orange pulp. The bigger the pumpkin, the more fibrous its pulp, so small or medium-sized pumpkins are recommended for use in cooking. Pumpkin pulp is all-purpose – it can be used in soups, baking goods, main dishes, porridges, desserts, and it also can be pickled. All the dishes I'm going to talk about can be prepared with pulp of summer pumpkin pulp. I'll further tell you about other pumpkin cultivars that you can come across at markets and groceries, about their peculiarities and what dishes they are perfect for.
Winter Squash (Cucurbita moschata)
Another popular pumpkin cultivar is winter squash, or Cucurbita moschata. Butternut squash is actually a variety of Cucurbita moschata, but is usually sold under its individual name. An example of Cucurbita moschata you can see in the photo. This cultivar is the most fabulous of all – it's large and ribbed and it seems to start growing bigger and bigger right in front of your eyes : )
Cucurbita moschata's pulp is soft, bright orange and sweet. It's one of the best pumpkins to use in cooking – it can be used in baking goods, desserts and sweets.
By the way, I took this picture in Toulouse. The pumpkin is being grown in the backyard of the art museum right in the city downtown. The museum is sited in the building of a convent in the backyard of which orange and quince trees and various kinds of vegetables are being grown : ) A very original combination of art, religion and gardening : )
Butternut squash
Yet another pumpkin species I'd like to tell you about is Butternut squash – a variety of Cucurbita moschata. It's pear-shaped and tan-yellow. It's a wonderful squash – it has a less amount of seeds and its pulp is tender and nutty in taste. Butternut squash can be used in any dishes and it's perfect for baby food. It should also be mentioned that it has a moderate 'pumpkin' taste. I recommend this cultivar to use for making the first dish of our pumpkin month (you are welcome to use other varieties as well).
Acorn squash
We continue our journey to the pumpkin world.
The next species is acorn squash. It's cute and quite small in size with a dark green skin covered with yellow spots. Its pulp varies from pale yellow to bright orange. As the name suggests, its shape resembles an acorn.
But how to prepare it? The tricky thing is that this squash is known for its 'pepper' taste and fibrousless pulp, so I would recommend use it for cooking savory dishes. It's not very good for desserts, but will perfectly complement meat, cheese, poultry and vegetables. The most popular way to cook this acorn squash is baked squash halves stuffed with meat/vegetable and cheese stuffing. I should try it once.
Hokkaido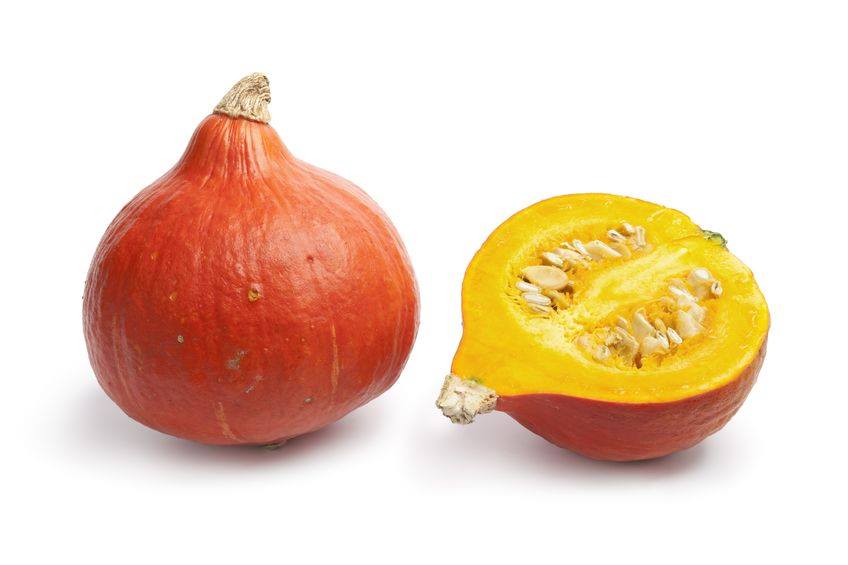 Let's keep exploring the pumpkin diversity!
Another pumpkin cultivar (my favorite) is Hokkaido. It's a rather young variety – it was bread in the late 19th century in Japan and was canned after the second largest island of the country. Hokkaido is famous for its bright and tender pulp with a nutty taste and thinnest skin so that you even don't need to peel it off. Among all the varieties, this one takes the least time to cook. Thanks to its tender and delicious pulp, it can be consumed uncooked. Usually, 800-1000 g Hokkaido squashes are sold, which is enough for one dish. Hokkaido can be kept for up to one year when properly stored (in a dark dry and cool place), or diced and then frozen.
It's an all-purpose vegetable – it's perfect for soups, salads, main dishes, puree, side dishes; it can be baked, or boiled, or whatever!
For the next recipe that I am going to publish tomorrow, I recommend you use Hokkaido squash.
Spaghetti squash – healthy pasta!
Hello there! Our pumpkin month is coming to an end, there a few interesting left for us!
Today let's talk about a very original species – Spaghetti squash. It's not a very large but oblong in shape with a yellow, sometimes covered with green strips shell, resembling a zucchini. And it has an interesting peculiarity – when cooked, its pulp falls away in strands like spaghetti.
This squash is a favorite of healthy eaters – as its pulp can be consumed instead of spaghetti with various sauces and/or cheese.
I baked a spaghetti squash to show you what it is like if you haven't tried it yet.
How to bake a Spaghetti squash:
Cut the squash in half.
2. Remove the seeds with a spoon.
3. Drizzle the insides of each squash half with vegetable oil and sprinkle some salt and pepper over (optionally).
4. Bake at 190-200 degrees Celsius for 40-50 min until the interiors are easily pierced through with a fork.
Take out and let chill.
6. Use a fork to scrape the pulp out – it will separate into strands.
Here is a tricky moment with strands' length. You can tell from the picture that strands are arranged in a circular formation around the interior, so in order to get the longest strands possible you just need to cut the squash into circles, that is crosswise instead of from end to end.
The most popular, nice and easy way to serve spaghetti squash is to serve it with green (spinach) spaghetti:
Bake a spaghetti squash; separate the pulp into strands.
Prepare green (spinach) spaghetti.
3. Combine them together, sprinkle with parmesan.
You can also stuff the halves of a spaghetti squash with meat sauce (i.e. Bolognese) for a few minutes before the squash is done, and then sprinkle with cheese and serve. Everyone will scrape the pulp our and dip into the sauce.
Long story short, spaghetti squash is very original! It's not as sweet as a summer pumpkin, so it's better to use for savory dishes. It's not usually used for making desserts.
If you come across a spaghetti squash, you must try it!
Enjoy!
Total visits: 298.
Today's visits: 1.